After breaking the strong inflection point from the ascending broadening patterns, gold prices hit the year's strongest support at $1,680. The recent drop in gold prices to $1,680 was predicted for a few weeks. A similar pattern can be seen in the silver market, as silver has also reached a long-term support level of $18.70. Silver, on the other hand, has a weaker price behavior than gold. The recent drop in the gold market is due to strong demand for the dollar as a result of global recession fears. The dollar's demand is not based on the booming US economy. A recession in the United States would also force the Federal Reserve to halt rate hikes and QT operations in order to drain excess liquidity from the economy.
The issue with gold is that rising interest rates and a strong dollar raise the opportunity cost of holding gold. However, these factors are heavily dependent on high inflation and geopolitical risk, which drive up gold demand. The recent drop in the gold market reflects market confidence that the Fed will be able to control inflation, thereby supporting the strong dollar, but the long-term inflows into gold ETFs demonstrate investor mistrust of the Fed's ability to protect the purchasing power of the Dollar.
The Gold Outlook
The chart, which we've been discussing since 2020, was broken at the ascending broadening pattern line, allowing it to reach the year's strongest support at $1,680. We have stated unequivocally that a strong bounce from $1,680 will be followed to determine the next move in the gold market. The current $50 gold bounce is underway, and prices are accelerating higher toward the next resistance level. Based on the price action, it is clear that if the gold market confidently breaks $1,680, then patterns will confirm a double top with the possibility of a large decline. A sustained hold at $1,680 with a breakout from $2075, on the other hand, will start the next rally. Based on the recent drop in the gold market, price structures have developed two possible cases for the gold market's next move. This report will discuss these two cases.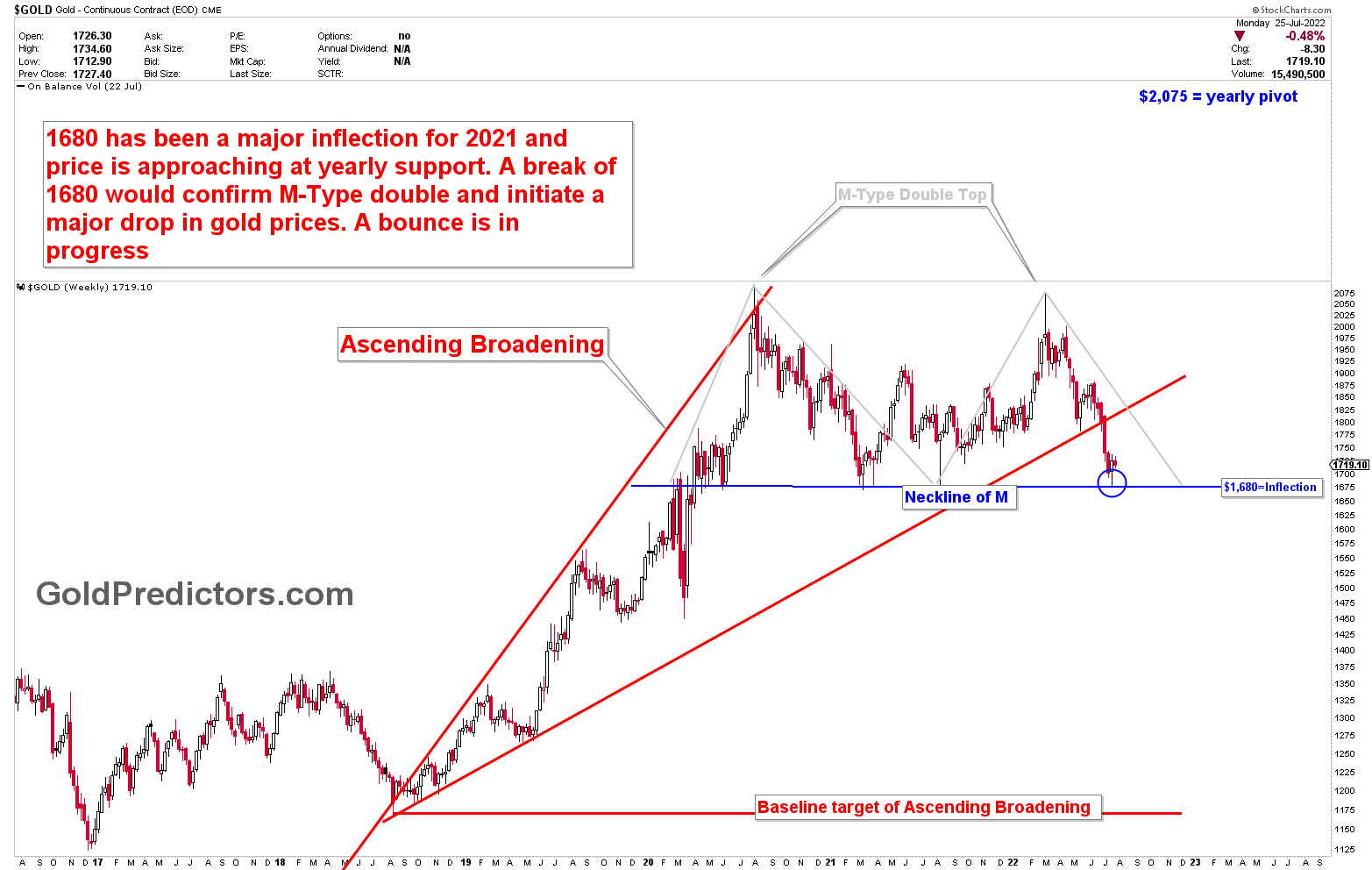 Gold Predictors Celebrates 6th Anniversary! Huge Discount on Yearly Memberships
Please login to read full article!
Please subscribe to the link below to receive free updates.
This content is locked
Login To Unlock The Content!