Trading Rules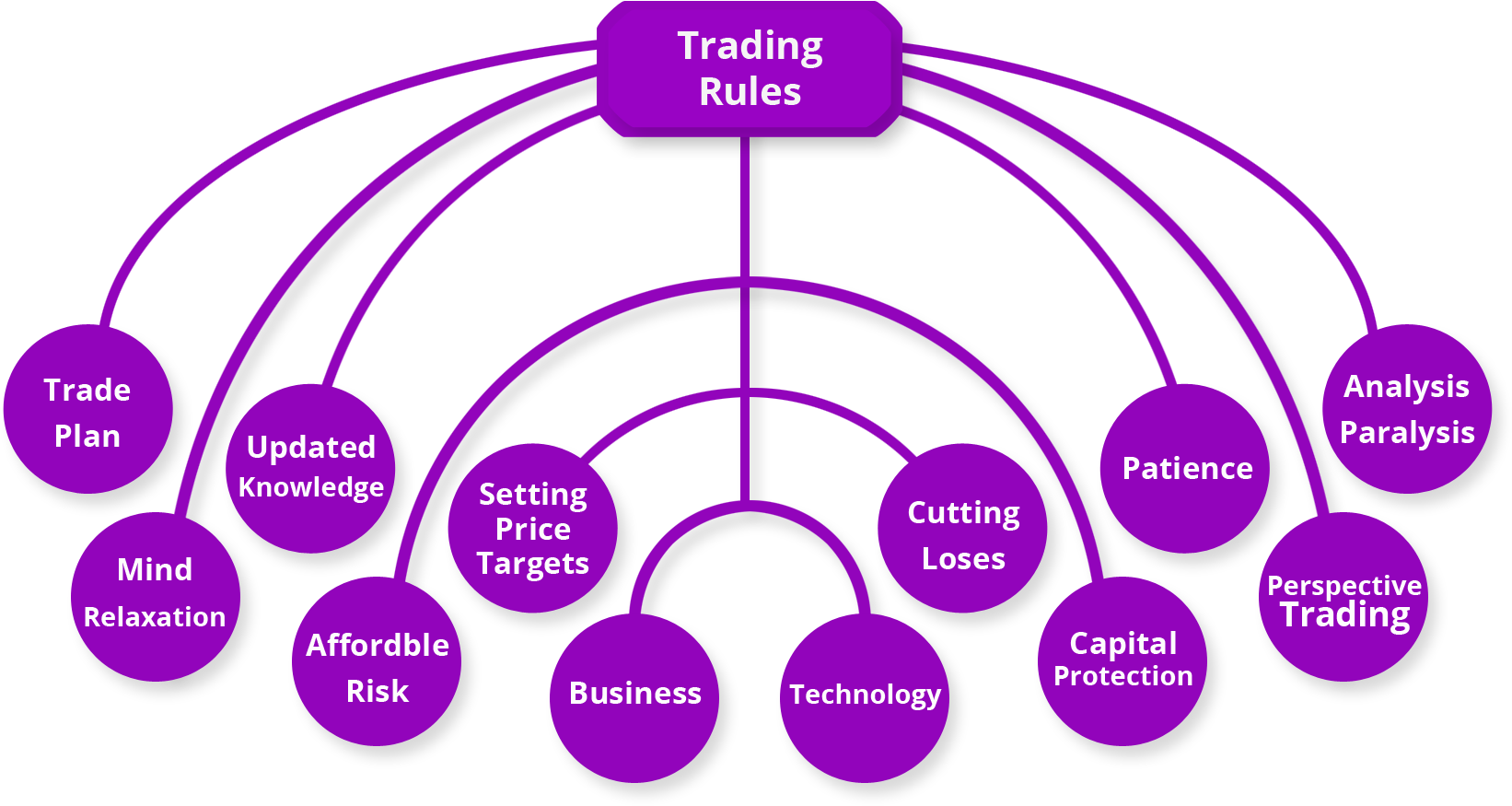 To be successful in trading, traders should follow basic trading rules. Trading without the rules is like flying an airplane without the knowledge of pilot. It does not matter you stock trader, options trader, futures trader or forex trader; if one doesn't follow the rules, one day he might be wiped out by the markets. Markets always win, and no one can fight the market without understanding and follow the rules.
Trading Plan
A trading plan is a written set of laws that clearly identifies the trader's entry, exit, and risk-reward criteria. The first rule to become successful in trading financial markets is to follow a trading plan which suits one's style. A trading plan should be tested, before applying it to real account. Once a trading plan has been developed, and back testing shows good results, the procedure uses in real trading. Taking trades outside of the trading rules, even if the deal wins, is considered weak trading and destroys any expectancy the plan may have had.
Updated Knowledge
The markets are changing every single day and the strategies that you may have used five years ago might not work now. You need to continue to educate yourself on a daily basis. World politics, events, economies – even the weather – all have an impact on the markets. The market environment is dynamic. The more traders understand the past and current market situation, the better prepared they will be to face the future.
Never Set Price Target
Never Set a target for the price and get out of real trades. Always use trailing stop losses to trail your trade and see how high price can go. Well, it also depends on the conditions of price and price behavior. Sometimes getting out of target is good for short term.
Cut your losses
A trading plan should always have an exit strategy. Whether it's a technical failure or percentage move doesn't matter as long as you have something in place to mitigate risk. Some traders have an even lower tolerance for loss than you might have which is fine. The key point here is to have set points (stop loss) within the limits of your tolerance for loss.
Analysis Paralysis
Most people just analyze and analyze but never get in. Start small but keep trading. Sometimes analyzing markets too much causes complications for trading. If you learn to master trading with only a few shares, then trading a couple hundred or thousand shares will be much more successful. Just Stop analyzing markets and trade more frequently. The numbers of increased trade will, of course, make better results if they are all according to the solid trading plan.
Trading is Business
Those traders who treat trading as a hobby or job may not be successful. As a hobby, there is no real commitment to learning; trading can be very expensive. As a job, it can be frustrating since there is no regular paycheck. Trading is a business and incurs expenses, losses, taxes, uncertainty, stress and risk. As a trader, you are a small business owner and must do your research and strategize to maximize your business potential.(Trading rules)
Technology
Jean Folger Said "Trading is a competitive market, and one can assume the person sitting on the other side of a trade is taking full advantage of technology. Charting platforms allow traders an infinite variety of methods for viewing and analyzing the markets. Backtesting an idea on historical data before risking any cash can save a trading account, not to mention stress and frustration. Getting market updates with smartphones allows us to monitor trades virtually anywhere. Even technology that today we take for granted, like high-speed internet connections, can significantly increase trading performance. Using technology to your advantage, and keeping current with available technological advances, can be fun and rewarding in trading."
Protecting Your Capital
Saving money to fund a trading account can take a long time and much effort. It can be even more difficult (or impossible) the next time around. It is important to note that protecting your trading capital does not mean that not having any losing trades. All traders have losing trades; that is part of business. Protecting capital entails not taking any unnecessary risks and doing everything you can to preserve your trading business.
Mind Relaxation
Relaxation of mind is a critical element of successful trading. Successful trading isn't solely about trading – it's also about being emotionally and physically healthy. Reduce the stress every day by taking time off the computer and working on other areas of your life – especially family. A stressed out trader will not make it in the long run.
Perspective Trading
It is important to stay focused on the big picture when trading. A losing trade should not surprise us – it is a part of trading. Likewise, a winning trade is just one step along the path to profitable trading. It is the cumulative profits that make a difference. Once a trader accepts wins and losses as part of the business, emotions will have less of an effect on trading performance. That is not to say that we cannot be excited about a particularly fruitful trade, but we must keep in mind that a losing trade is not far off.
Setting realistic goals is an essential part of keeping trading in perspective. If a trader has a small trading account, he or she should not expect to pull in huge returns. A 10% return on a $10,000 account is quite different than a 10% return on a $1,000,000 trading account. Work with what you have, and remain sensible.
Affordable Risk
A stop loss is a predetermined amount of risk that a trader is willing to accept with each trade. The stop loss can be either a dollar amount or percentage, but either way it limits the trader's exposure. Using a stop loss can take some of the emotion out of trading since we know that we will only lose X amount on any given trade. Ignoring a stop loss, even if it leads to a winning trade, is bad practice. Exiting with a stop loss, and thereby having a losing trade, is still good trading if it falls within the trading plan's rules
Patience
Patience is critical to practice that every trader should apply while trading. The patience should be taken with each trade and follow the trading plan accurately. Many traders close their trades too early even when the trade is not mature, or otherwise, they bridge the trade with a loss that was out of his trading plan due to loss of patience.