Last week, gold prices reached a low of $1,750 and began to rise toward $1,800. On Friday, all of the gains were rolled back, and the weekly candle produced a shadow. A bearish outlook was presented in last week's report, with $1,746 as the pivot. It was stated that only a break of $1,746 would trigger the next lower move. The low was $1,749.50, so the $1,746 was not cracked. Only a weekly close above $1,800 would be the first sign of a reversal towards $1,835, according to the important levels, mentioned in last week. The high was at $1,800 last week. Last week's trade to sell at $1,794 was a brilliant idea, but it was closed with a breakeven no loss to avoid the potential risk. Now looking for the next trade by interpreting the next upcoming move in gold.
Alternatively, silver prices rose last week, closing the week above the $23.01 level (the big number). Silver prices did not react to gold's decline from $1800, and closed the first week above $23.01. Last week, the risk parameter was $1,746. It was stated that any bounce must be sold out, and selling positions are at risk until $1,746 is broken. The gold bounce was sold out, but $1,746 was still held last week.
The forex markets are also trading against the gold market, as the US dollar is rising, the Euro is falling, and the Japanese Yen is on fire. These parameters normally negate gold market demand, but the only factor that influences the price of any instrument is price action. To some extent, all technical indicators and price behaviors fail, but price action always tells you where the prices of any instrument are headed. The chart below shows that the gold market is at a crossing point, with Ascending Broadening patterns determining the next move. The grey square marked on the charts can be explained with the help of WEEKLY CHANNELS chart, presented inside the report.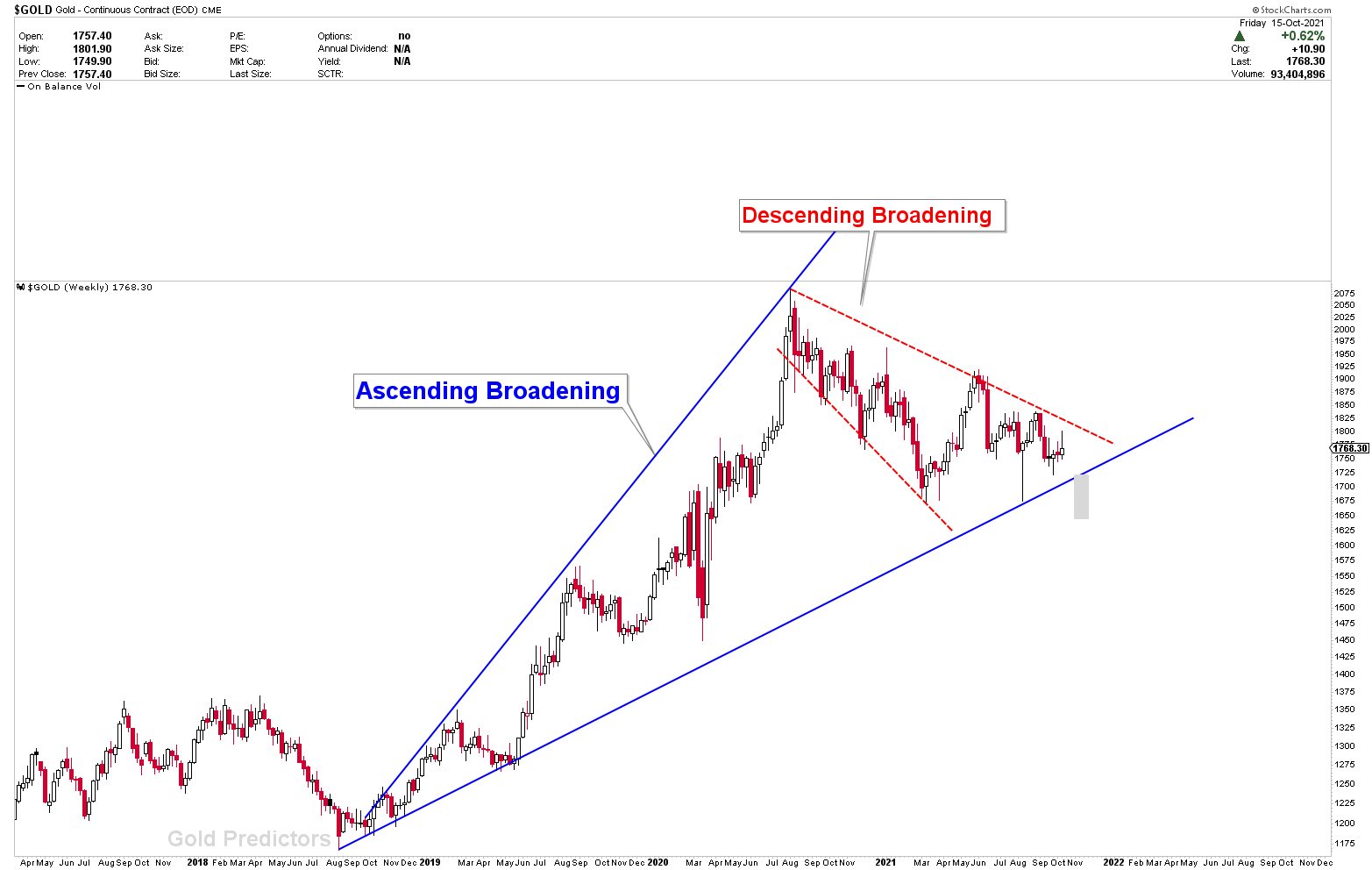 The information in today's report will support to execute some right decisions in the gold and silver markets. The article includes the chief's personal opinion, trading comments, a market overview, and short and medium term cycles for the coming week. Since gold and silver prices are stuck in such wide ranges, this article will help to decide the possible trading actions.
To receive the articles, trading signals, and other materials please subscribe to the link below.
This content is locked
Login To Unlock The Content!