We mentioned in the previous update that gold prices are likely to bounce from the inflection point to $1,725 and $1,750. We also publicly stated that only a break above $1,760 in spot gold prices would be a bullish signal. Gold prices bottom at $1,680 before hitting a resistance level at $1,752. It's been 48 hours, and prices are simply consolidating their decline. The measured inflection of $1,680 is also shown in the chart below. It is clear that gold prices reversed sharply from the inflection point. This strong level also serves as the support for a complex descending triangle. We created the complex descending triangle for premium members a few months ago, and it is still valid today.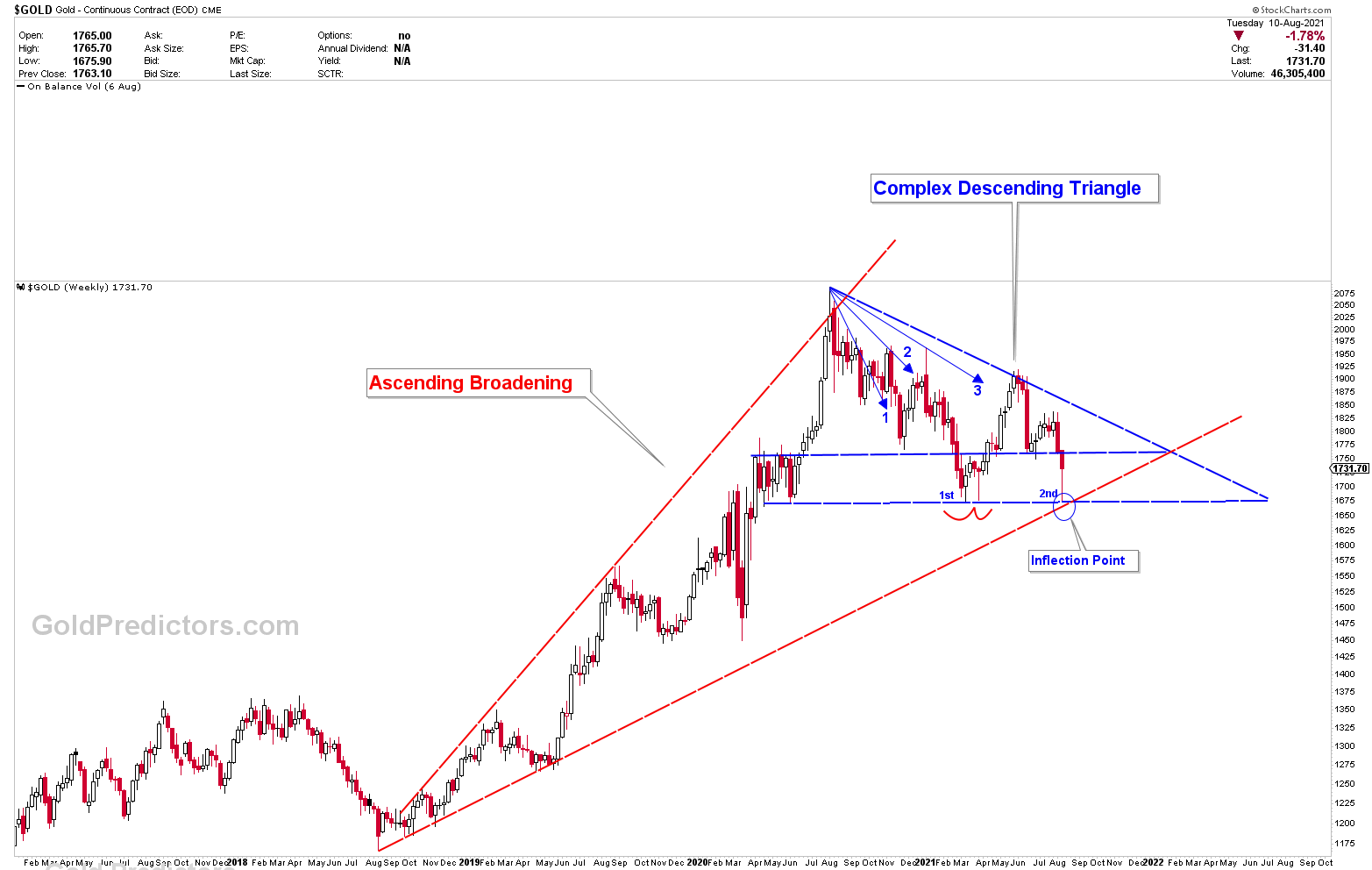 Emergence of Descending Triangle with Gold Inflection Point
According to the premium article, gold is unlikely to fall below $1,680 in a straight line due to a variety of other factors. $1,680 is a significant support juncture not because of the ascending broadening and descending triangle, but because of the abundance of other support levels. The inflection point also represents a 38.6% retracement calculated from the the Dec 2015 bottom to the All Time High.
We haven't changed our perceptions from the last article. A weekly close above 1760 might be the first sign of bottom. This level of support calculated from the gold chart mining indicates a significant inflection point. If $1,900 levels breaks decisively, gold prices may go much higher. A break of $1,680, on the other hand, could signal a significant change in the medium term outlook.
Tuesday was another inside day candle below $1,760. The one-hour drop in gold prices from $1,753 to $1,680 was almost recovered. It is now up to gold to decide its next move following the release of the Consumer Price Index (CPI). Since the 2008-09 global financial crisis, the Fed has been pumping liquidity into the financial system. However, there has been little growth in GDP as a result. We are now at peak liquidity and inflation is the likely outcome.
A quote from the free article
"The strong support that came in at the open suggests a strong bounce towards $1725 and then $1750, with a decision made only by a weekly close above $1760. However, if prices begin to close above $1760, that would be the first sign that the bottom has been reached and prices are going higher"
To Receive Free Updates, Please Register as a Free Member